Bugster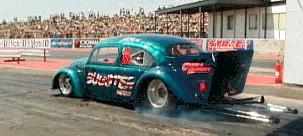 General
Bugster was built by Rowland Creed and Peter Bennett between December 1994 & March 1996. It is a pure quarter mile race car, having a Pro-Stock type chassis, composite body and a drag race motor. The car has now done about 200 runs, many outside the UK.
Chassis
The Bugster chassis is built primarily from 1.625" CDS tubing, having a Pro-Stock style cage around the driver. The engine and drivetrain are fixed in the chassis by means of aluminium motorplates. The drive is taken via chrome-moly ladder-bar rear suspension and coil-over shock-absorbers. The front suspension type is king and link pin with an aluminium beam axle and very low steering ratio. The front wheels are spindle mounted with no brakes. The front track is 8" narrower than stock with the rear 10" narrower. The wheelbase is 96". Frame, chassis, motorplates, shocks and suspension all made by Creed & Bennett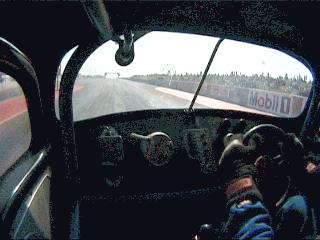 Body
The body is fabricated from Kevlar. It has a 3.5" roof-chop and a 1.75" body-chop.The highest point on the body is 42" above ground level. The body was made by taking a 1303 Beetle (used for it's slippery shape), then cutting, welding and filling to the shape required. A mould was then taken, to make the body which is on Bugster, which is made from single layer kevlar weave. The doors were made in a similar manner but from Carbon- Fibre. Front end is a modified BodyStyle type. All body & aluminium panel fabrication was by Creed & Bennett. The paint on Bugster is House of Kolor. It was applied by John Rolfe, owner of J.R.S. Finishers of Kent. Sign writing is by Neal of Action Signs in Harrow.
Engine
The engine in Bugster is 2400cc with Volkswagen crankcase, Scat flanged crank, Pauter Machine aluminium connecting-rods, Wiseco pistons and Superflo heads. The engine has Nitrous Oxide injection over which we have total control. It has a twin bottle system with the second bottle used to maintain Nitrous pressure in high gear, via priority valve by Bennett. Carburation is a pair of 48 IDA Webers,which we have machined to accept 51mm throttles. The clutch is a McCloed floater type. The engine produces approx 400 horsepower and makes good power to 9000 rpm (rpm limiter). All build and machine work by Creed & Bennett.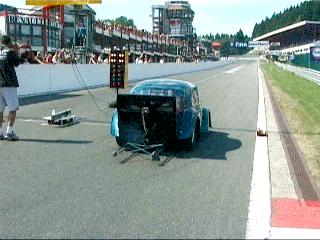 Drivetrain
The gear-case is Volkswagen with gussets welded to it for extra strength. All gears are heavy-duty and have Liberty Pro-Rings fitted. FTC 9130 steel mainshaft. Ratios 1st 3.78 2nd 2.21 3rd 1.48 4th 1.25 R&P 3.88. A Dave Folt Aluminium spool (no differential) connects the drive to the 5" shorter than stock axles. Stopping is by Wilwood rear brakes and a Deist junior dragster chute. All build and machine work by Creed & Bennett.
Driver
Bugster is being driven by Peter Bennett, who had not driven a drag car for 23 years (march 1996). In the period of 1964 & 1973 whilst in partnership with Alan Herridge, Peter drove A & AA dragster and Pro-Stock. The car is fully automated so all the drivers job is, is to shift gear and steer, (not as easy as it sounds, 3 gear shifts in the first 6 seconds). See the video!
60ft: 1.25sec, 330ft: 3.85sec, 660ft: 6.08sec 112mph/180kph, 1/4mile: 9.58sec 140mph/225kph.