Bug Catcher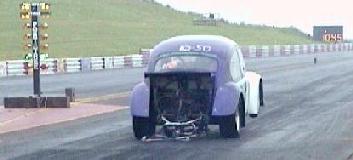 General
Bug Catcher is the latest in a string of Volkswagen racecars raced by the Watkins' family, Ray, Cliff, Clive and young Stuart (Ray's son and next generation of Watkins Racing). The car has been built over a Carl Donovan chassis, brought up to date by Peter Bennett.
Chassis
The Bug Catcher chassis is built from 1.625" CDS tubing. The engine and drivetrain are fixed in the chassis by means of aluminium motorplates. The drive is taken via chrome-moly ladder-bar rear suspension and coil-over shock-absorbers. The front suspension system is light-weight MacPherson struts (by Peter Bennett) and rack and pinion steering. The front wheels are spindle mounted with no brakes. The front track is 8" narrower than stock with the rear 10" narrower. The wheelbase is 96".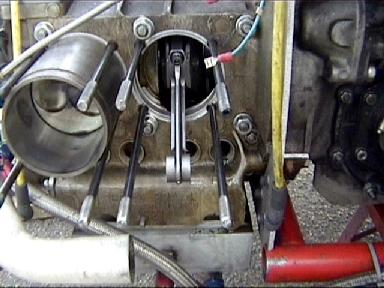 Body
The body is a modified steel origanal. The doors were made in Fibreglass. Front end is Bugpack, and the wings are modified BodyStyle type. Body & aluminium panel fabrication by Peter Bennett. The paint on Bug Catcher is House of Kolor. It was applied by John Rolfe, owner of J.R.S. Finishers of Kent.
Engine
The engine in Bug Catcher is 2400cc with Volkswagen case, 86mm stroke Scat flanged crank, Pauter Machine chrome - moly steel connecting - rods, 94mm Wiseco pistons and superflow heads. Carburation is by a pair of 48 IDA Webers, machined to accept 51.5mm throttles. The clutch is a McCloed floater type. The engine uses nitrous oxide.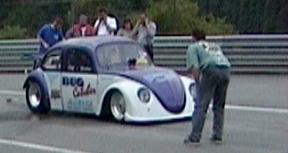 Drivetrain
The gear-case is Volkswagen Type 1 with gussets welded to it for extra strength. All gears are heavy-duty and have Liberty Pro-Rings fitted. FTC 9130 steel mainshaft. Ratios 1st 3.78 2nd 2.21 3rd 1.56 4th 1.30 R&P 3.88. A Jay Cee Aluminium spool (no differential) connects the drive to the 5" shorter than stock axles. Stopping is by Wilwood rear brakes and a Deist junior dragster chute.
Lowest Elapsed Time
1/4mile 10.40sec 130mph?